What is a BOOKTALK?
It's the most effective way to convince people to read for pleasure!

It is a dramatic introduction to
a book, a teaser,
a come-on, a commercial for a book that highlights the most exciting
parts of it.

It's not a book report or a book review, because it doesn't tell everything about the book or evaluate it.
It's a glimpse into a scene, a character or two, or a plot line that reveals just enough to convince the listener to pick up the book and give it a try.
Librarians and teachers use Booktalks to convince audiences of all ages that reading is fun,
and that books can open up new worlds, new ideas, and new opportunities!
A great booktalker can convince anyone to read!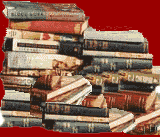 ---

1PLs Co (www.1Payday.Loans)
Tori's post & more...

I just had to tell you how fabulous your new book, "Radical Reads" is. I just received it in the mail today and I am already set with a brand new slew of books to introduce tomorrow at school. I am especially excited about the info for "Give a Boy a Gun."
I nominated that book for a reading list in
Minnesota and have caught some flack about it.
I think I have defended the book pretty well,
but your section on it gave me even
more ideas to consider.
Thank you for this wonderful resource,
Tori
Tori Jensen, John Glenn Middle School
Minnesota Youth Reading Awards
____________

Tori -- I am from Mn as well - but voice opinion only as a mother/aunt.
I loved this book. I highly recommend it. I am getting a copy for my 15 year old nephew
with the request that he pass it around to his friends too.
Lori
____________

I absolutely agree. It is a wonderful resource and I am going to
mention it when I do my YA readers' advisory program for my library
staff.

Kim Dankovich
Reference Dept.
Kanawha County Public Library
Charleston, WV
____________

Let me add my voice to the chorus of praise for Joni Bodart's Radical Reads.
Even if I'm not on the front lines in a library, I use it all the time as a
reference for my own writing and speech-making. It's multiple indexes are
especially helpful.
Patty Campbell
____________
Read more about Joni: Scarecrow Press
Joni has also started writing reviews for The Romance Reader


Join the thousands worldwide, who with Joni's help,
have gotten hooked on the addictive joys of
reading for pleasure and recreation.